Peminat doom metal! Band ni mesti berada dalam senarai perhatian lu orang. Band yang bernama Swallow the Sun, berasal dari Finland ini tak habis-habis menghasilkan releases yang semuanya hebat-hebat belaka. Membawakan doom metal berperisa modern yakni melodic doom/death; riffing gitar yang crushing, melodi kibod yang berhantu, tempo yang kadang-kadang sangat slow tetapi tiba-tiba meletus dengan hentaman pedal berkembar, vokal works yang sangat throaty disusuli dengan clean vokal yang melodic dan jalinan tema yang berkisar tentang kematian, kehampaan, kisah horror, maka lu orang akan dapat Swallow the Sun. Dibarisi oleh:
Mikko Kotamäki - vocals
Juha Raivio - guitar
Markus Jämsen - guitar
Aleksi Munter - keyboards
Matti Honkonen - bass guitar
Kai Hahto - drums

Kai Hahto (ex Rotten Sound, Wintersun) baru saja menyertai rank StS menjelang album terbaru mereka yakni New Moon (eh macam nama sequel Twilight ya dok - ed) menggantikan Pasi Pasanen yang mengundur diri disebabkan lack of motivation. Kemasukan Hahto menguatkan lagi StS dan memberi dimensi baru kepada sound StS, yang lebih padat, berat dan darker. Contohnya dalam album New Moon dah ada blastbeat yang jahat tonenya. Thanks kepada Kai Hahto yang pernah berkhidmat dengan unit Grindcore hebat Rotten Sound, kali ni dia bawak intensity grindcore ke StS pulak. Manakala vokalis Mikko Kotamaki pulak sekarang bukan setakat employ low growl dan clean vokal (yang tentunya merdu lol),malah dah include skali black metal shriek.

Anyway, Swallow the Sun bermula pada tahun 2000. Line up mereka ni asalnya berasal dari line up band-band lain di Finland seperti Empyrean Bane (melo black metal), Plutonium Orange (stoner metal), Funeris Nocturnum (melo black metal) dan banyak lagi. Pada gua setiap release oleh mereka adalah wajib didengari dan susah bagi gua nak cakap mana album yang terbaik! Setakat ni diorang dah mempunyai 4 full length dan 1 EP dengan New Moon diterbitkan pada penghujung 2009. Favourite gua? Semua kecuali Ghost of Loss (sebab gua tak dengar lagi) dan Plague of Butterflies (sebab panjang sangat, 1 lagu 35 minit!).

Gua sebenarnya tak tau nak highlight album yang mana satu. Tapi gua pilih Hope ah sebab ni album diorang yang pertama gua dengar. Album ketiga mereka ini diterbitkan oleh Spinefarm Records pada 2007 dengan line up yang berikut: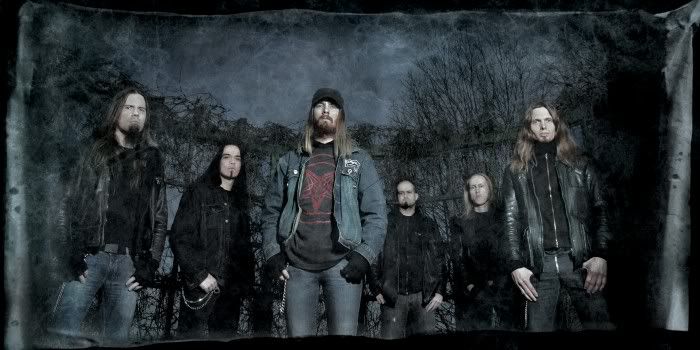 Era The Morning Never Came
Mikko Kotamäki - Vokal
Juha Raivio - Gitar
Markus Jämsen - Gitar
Matti Honkonen - Bass
Aleksi Munter - Keyboard
Pasi Pasanen - Dram

8 tracks dihidangkan dalam Hope (9 tracks kalau digipak limited edition) yakni:
Hope
These Hours of Despair
The Justice of Suffering
Don't Fall Asleep (Horror Pt. 2)
Too Cold for Tears
The Empty Skies
No Light, No Hope
Doomed to Walk the Earth
These Low Lands (Timo Rautiainen & Trio Niskalaukaus cover) [hanya dalam limited edition]

Mendengar Swallow the Sun sebenarnya mengingatkan gua kepada My Dying Bride di era As The Flower Withers. Death Metal yang berat, lembap, crushing tetapi melankolik. In case lu orang tak tau, ini adalah amalgamation Death + Doom Metal aka Death/Doom. Sebenarnya ada juga kedapatan style early Paradise Lost dan Anathema, gua rasa. Tetapi StS lebih melodik gua rasa, dengan nyanyian yang lebih syahdu (betol ni gua tak tipu!-ed) dan melankolik. Buat yang kurang familiar dengan death/doom, genre ni overlapped dengan Doom dan Death Metal (hence the name) jadi ada ketika lagu-lagu jenis ini akan jadi sangat slow (ke tahap Funeral Doom Metal) dan boleh jadi kemudiannya burst ke tempo yang laju seperti Death Metal dengan hentaman twin pedal dan dalam sesetengah kes,dengan blastbeat (boleh refer ke lagu Lights on the Lake [horror part III] dalam album mereka New Moon). Anyway kita tengok 5 lagu terbaik daripada album Hope:

Hope - Opening track untuk album ni. Lagu ini beautiful tetapi painful. Clean vocal lagu ini memang gah (dengan gaya yang crooning), begitu juga dengan growl yang begitu monstrous sekali. Pembuka yang mantap. Iya lagu ni sebenarnya cerita pasal apa ya? Putus harapan kot.

These Hours of Despair - Barangkali lagu paling brutal dan laju dalam album ni. Permulaan lagu aje dah dimulakan dengan dentuman twin pedal yang rapid fire. Lagu ini menyerlahkan side Death Metal mereka yang kental. Vocal yang separa berbisik menjadikan lagu ini lebih layan. Kredit juga mesti diberikan kepada keyboard yang mewarnai lagu yang serba kental ni.

The Justice of Suffering - Vokalis Katatonia Jonas Renkse(Doom/Death Metal dari Sweden) membuat penampilan dalam lagu ni dengan menyumbangkan clean vokal beliau. Berlemak sekali. Disebalik growling Miko Kotamaki yang macam badak yang tengah beranak, vokal Renkse mewarnai lagu yang depressive ni dengan clean vokal yang umph!
Official video Don't Fall Asleep. Siapa sebenarnya perempuan tu?
Don't Fall Asleep (Horror part II)
- Sequel kepada Swallow (Part I) dari album The Morning Never Came. Merupakan lagu kegemaran gua dari album ni. Sekali lagi crooning vocal dan growling Miko Kotamaki tetap menjadi dalam lagu ni. Dan bila masuk part yang semuanya jadi heavy nak mampos (dan disertakan dengan twin pedal) keadaan jadi sangat doom-ish dan horror. Sekali lagi keyboard memainkan peranan penting dalam lagu ni. Somehow lagu ni invoke perasaan desolate dan
claustrophobic
.
These Low Lands
- Hanya terdapat dalam versi digipak. Lagu cover yang menarik! Hampir faithful kepada versi asal Timo Rautiainen & Trio Niskalaukaus kecuali dengan suara yang..macam badak tengah beranak heheh. Miko Kotamaki can actually sing. Lagu ni menyerlahkan kebolehan beliau menyanyi dengan suara yang..err lunak.
Pros
:
- Hope adalah sebuah perjalanan emosi dan perasaan tentang kegagalan hidup. Dan Swallow the Sun berjaya mebawa essence tersebut
- Vokal Miko Kotamaki adalah highlight album ni dan juga keyboard works oleh Aleksi Munter.
- Bukan Death/Doom yang bosan.
Official video Doomed To Walk the Earth. Agak disturbing dan creepy
Cons
:
- Sebuah full length dengan total playing selama 63:37 adalah...agak dragging terutama bagi yang tidak biasa dengan genre doom yang sememangnya panjang-panjang lagunya.
Rating
:
8/10
Swallow the Sun adalah generasi baru Doom/Death yang ada potensi dan mempunyai pakej yang bagus. Setiap releases mereka boleh dilayan dan worth for listening. Release yang terbaru New Moon menampakkan kematangan dengan kemasukan unsur-unsur black metal (musically) dan lebih dark.Swallow the Sun boleh di capai di
sini
dan
sini
.
Kredit:
- Google
- Youtube